TranspArEEnS

mainstreaming Transparent Assessment of Energy efficiency in Environmental social governance ratingS
Improving access to long-term finance for Energy Efficiency (EE) projects is key to achieve the EU2030 targets and aligning the Covid-19 recovery to the European Green Deal. However, the lack of standardized disclosure of EE investments limits firms' access to EE financing. Further, poor understanding of EE information in ESG ratings increases the risk of greenwashing, thus preventing a smooth development of the sustainable finance market.
TranspArEEnS, Horizon 2020 project, addresses these barriers by mainstreaming a quali-quantitative framework for standardized collection and analysis of firms' EE and ESG information and the development of a standardized EE-ESG rating. This serves as an EE-ESG filter to inform investment and financial policy decisions with regard to portfolios' alignment to sustainability. A unique added value of this project is to cover non-listed Small and Medium Enterprises, meeting an important market need. TranspArEEnS' EE-ESG rating will be tested in pilot case studies and capacity building sessions with leading representatives of the financial industry and supervisors.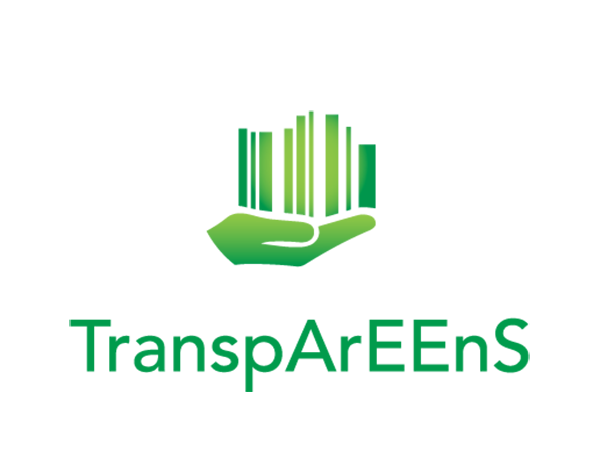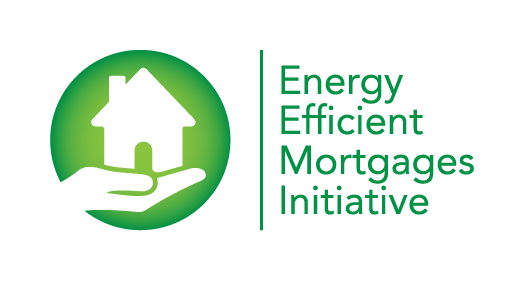 TranspArEEnS is linked to the Energy Efficient Mortgage Initiative. It builds on and complements the outputs of three previous related EU-funded projects:
the Energy efficient Mortgages Action Plan (EeMAP);
he Energy efficiency Data Protocol and Portal (EeDaPP);
the Energy efficient Mortgage Market Implementation Plan (EeMMIP)
Project
TranspArEEnS objective is to enhance standardized disclosure of EE and ESG information at firm level, to foster access to long term financing (e.g. via securitization) and better risk assessment, while taming the risk of greenwashing.
TranspArEEnS will achieve its goal by means of five measurable objectives that foresee the collaboration of project partners from academia, financial policy and industry:
develop a standardized large-scale EE-ESG database;
develop a standardized EE-ESG SMEs (Small and Medium Enterprises) survey;
develop standardized EE-ESG rating;
support long term EE-securitization;
dissemination and capacity building.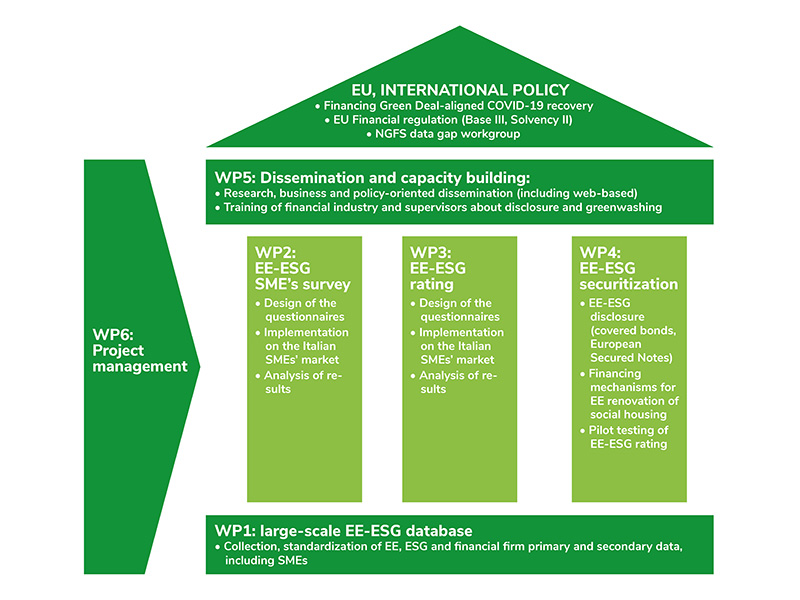 Structure of the project
The project runs for thirty months and is organized in the following steps:
Identification of the main ESG drivers of listed firms' performance considering 600 indicators for the E, S and G dimensions and using data providers such as Bloomberg and Thomson Reuters/DataStream.
Construction of a large-scale database at firm level that combines and standardizes information related to EE, financial and E/S/G performance of listed firms.
Construction of a similar database focusing on the EE dimension to detect its role in ESG's E scores in the context of SMEs.
Design of a survey among a large sample of Italian SMEs in order to collect information to evaluate SME's EE investments and performance in different sectors (buildings, industry, transport, etc.).
Distribution and collection of the questionnaire through different channels.
Interpretation of results of the survey, that will allow to collect for the first time firm-based information about one of the three main pillars of the EU Taxonomy, i.e. the identification of SMEs' activities that substantially contribute to one of the six environmental objectives.
Development of an EE-ESG credit rating built on ArtificiaI Intelligence, Machine Learning and Big Data techniques integrated by the qualitative information from the SMEs survey and the database.
Market surveys and experts' interviews to understand the market needs for EE-securitization.
Development and test of financial structures to support the issuance of debt securities for EE-based financial products focusing on two types of securitized financial instruments, namely Covered Bonds and European Secured Notes (ESN).
Knowledge co-production workshops for analysis of barriers/opportunities for long term financing of EE-investments in the building sector and the introduction of EE-ESG considerations into monetary policy and financial regulation.
Capacity building initiatives and pilot testing of the new EE-ESG ratings for SMEs in collaboration with selected banks.
Partners
Coordinator: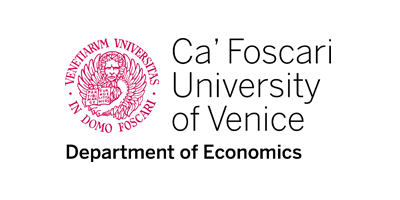 Ca' Foscari University of Venice
Ca' Foscari University of Venice is a public University with a national and international outstanding reputation for academic excellence in both teaching and research. The Department of Economics develops knowledge and understanding of economic phenomena dealing with the complexity of global market scenarios and exploring related social, juridical, ethical and environmental implications.
A new research Center in Economic and Risk Analytics for Public Policies (VERA Center) has been created and it focuses on big data applied to social welfare and wellbeing, risk analytics and evaluation of public policies. The Department is involved in several European projects in the field of sustainable finance, Energy Efficiency and ESG criteria: EIBURS-ESG-Credit.eu, EeMMIP- Energy efficient Mortgage Market Implementation Plan; EeDaPP - Energy efficiency Data Protocol and Portal; EeMAP - Energy efficiency Mortgages Action Plan.
Project partners: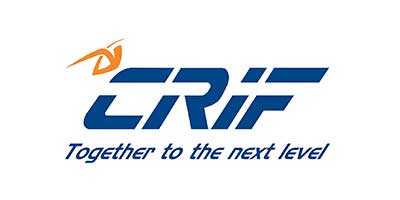 CRIF Spa
CRIF is a global company specialising in credit bureau and business information, outsourcing and processing services, and advanced solutions for credit and open banking. Established in 1988 in Bologna (Italy), CRIF operates over four continents and currently is the leader in continental Europe in the field of banking credit information and one of the main operators on a global level in the field of integrated services for business & commercial information and credit & marketing management.
Moreover, CRIF is included in the prestigious IDC FinTech Rankings Top 100, a ranking of the leading global technology solution providers to the financial services industry, and in 2019 completed its coverage as an AISP in 31 European countries where the revised Payment Services Directive is applicable. Today over 10,500 banks and financial institutions, 1,000 insurance companies, 82,000 business clients and 1,000,000 consumers use CRIF services in 50 countries on a daily basis.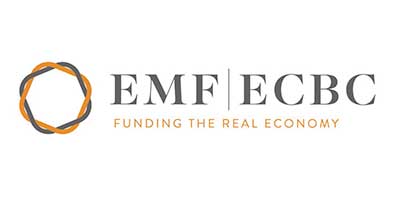 Covered Bond & Mortgage Council - CBMC
The Covered Bond & Mortgage Council (hereafter called the Council) is an international non-profit association under Belgian Law. The objective of the Council is to represent the interests of stakeholders in the mortgage credit and covered bond industry along its whole value chain, namely covering mortgage credit origination and servicing (represented by the European Mortgage Federation – EMF) and funding (represented by the European Covered Bond Council – ECBC) at both European and international levels.
Established in 1967, the European Mortgage Federation is the voice of the European mortgage industry, providing data and information on European mortgage markets, which were worth €8.15 trillion at the end of 2020. In 2004 the EMF founded the European Covered Bond Council, a platform that brings together covered bond market participants including issuers, analysts, investment bankers, rating agencies and a wide range of interested stakeholders. ECBC members represent over 95% of covered bonds outstanding, which were worth almost €2.9 trillion at the end of 2020. To achieve its goal(s), the Council undertakes to:
Study measures that could be adopted at European and international levels in order to create a positive environment for mortgage credit lending and funding, and to disseminate this information for the benefit of its members and other stakeholders.
Advise EU Institutions and other relevant authorities on all questions of interest to mortgage credit lenders, in the areas of both mortgage credit origination and funding.
Act as a global platform for knowledge sharing and exchange of best practice and as a catalyst for market-led initiatives which add value to the market, the economy and society in general through innovation, quality and transparency, for example the Covered Bond Label, the Energy Efficient Mortgages Initiative and the Energy Efficient Mortgage Label.

MODEFINANCE Srl
MODEFINANCE is a native Fintech company specialized in companies' and banks' creditworthiness assessment, developing Artificial Intelligence solutions for credit risk analysis and management. Thanks to the MORE proprietary methodology, modefinance is able to evaluate any company, regardless of sector, size or country: as a Fintech Credit Rating Agency (CRA) registered at a European level, the ratings issued have legal value and can be used for regulatory purposes.
With a tailor-made, cloud-based and API approach, modefinance solutions allow users to easily access a wide range of financial risk analysis tools, to automate current procedures. modefinance supports financial services, banks and businesses in the daily management of exposure risk by providing high quality, transparent and reliable evaluations worldwide.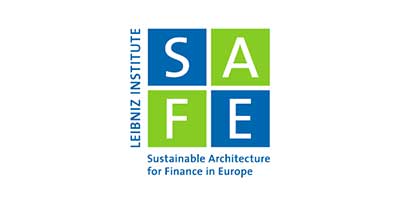 Leibniz Institute SAFE
The Leibniz Institute SAFE is a research institute dedicated to research and research-based policy advice in all areas of finance, with a special focus on Europe. Its research program includes six research areas: Financial Intermediation, Financial Markets, Household Finance, Money & Finance, Macro & Finance, and Law & Finance. With its international and interdisciplinary group of researchers, SAFE combines the methodological and professional competences for a broad range of topics related to financial markets and financial institutions.
This also includes topics of sustainable finance, climate change and energy efficiency mortgages. A unique feature of SAFE is its Data Center, which provides data access to all the major financial and economic data providers (FactSet, Datastream, Bloomberg and CRSP/Compustat) and creates new European datasets. The SAFE Policy Center distributes and disseminates research findings to the policymakers and regulators. The main goal is to provide theory- and evidence-based policy advice on fundamental political challenges
News and events
7/03/2023 - Webinar "Measuring the ESG of SMEs through the TranspArEEnS project"
Unioncamere Veneto in cooperation with the Department of Economics of Ca'Foscari University organised a webinar focused on ESG and SMEs. The event was the occasion to present the ESG questionnaire offered free of charge by the TranspArEEnS project for assessing the Environmental, Social and Governance performance of SMEs.
More than 2000 SMEs have already joined the TranspArEEnS survey filling in the questionnaire in the Synesgy platform.
14/02/2022- TranspArEEnS at the EEMI Trento Bauhaus Week
TranspArEEns takes part to the Trento EEMI Bauhaus Week from February 13 to 16, 2023. "Combining smart digital & sustainable solutions to change the market paradigm" is the title of the event organized by the Energy Efficiency Mortgage Initiative (EEMI). This is the first in a series of market events intended to launch a new movement in the design, scale-up and roll-out of home ecosystems globally through the exchange of ideas, knowledge and best practice between financial actors, SMEs, start-ups, architects, scientists and academics, local authorities.
Monica Billio, coordinator of TranspArEEns project, attended the EEMI Academy Training Session on the second day, February 14, 2023, with a talk on "TranspArEEnsS: ESG ratings, the SMEs perspective".
More information: https://energyefficientmortgages.eu/eemi-trento-bauhaus/
23/11/2022 - TranspArEEns at the LIFE IS ENERGY Webinar
TranspArEEns has been invited to the webinar LIFE IS ENERGY: coordination and support actions for the "Transition to clean energy" on 23 November 2022.
"LIFE is Energy" is one of the 4 webinars organized by the National Contact Point LIFE in the framework of the initiatives to celebrate the 30th anniversary of the LIFE Program in Italy. 4 webinars dedicated to the 4 Life sub programmes: Nature and Biodiversity, Circular Economy and Quality of Life, Climate change mitigation and adaptation, Clean Energy Transition.
TranspArEEns is one of the three projects funded in the previous Horizon 2020 invited in the webinar dedicated to the Clean Energy Transition: SUPER-I, ICEE and TranspArEEns.
More information: website of the Ministry of the Environment [ITA]
22-23/09/2022 - Credit 2022. Long run risks
The European TranspArEEnS project enters phase 3
TranspArEEns is a 30-month EU-funded project that aims to develop a qualitative-quantitative framework for the standardised collection and analysis of EE (energy efficiency) and ESG (Environmental Social Governance) information of small and medium-sized enterprises and deliver a standardised EE-ESG rating in accordance with the recommendations and benchmarks provided at European level by the EU Technical Expert Group on Sustainable Finance (TEG).
TranspArEEnS Kick off meeting
Online event, 23 June 2022
The TranspArEEns Kick Off meeting took place on 23 June. The project led by Ca' Foscari University of Venice and bringing together CRIF S.p.A, the EMF-ECBC, the Leibniz Institute for Financial Research SAFE and Modefinance srl, will establish a quali-quantitative framework, building on a large-base database model, to collect information about Energy Efficiency and the ESG performance of not only listed but importantly also non-listed firms, introducing a standardised EE-ESG rating model and thus meeting an important market need.
Presentation
TranspArEEnS project presented at the "Eccellenze del Nord-Est symposium" – the performance of north east enterprises
Treviso, 16 March 2022
The Order of Chartered Accountants and Accounting Experts of Treviso organized the annual symposium "Eccellenze del Nord Est" for presenting the analysis of the annual performance of enterprises in the Nort-East Regions (Veneto, Trentino Alto Adige and Friuli Venezia Giulia). Focus of the 2022 Conference the competitiveness of North East enterprises and the ESG factors .
Professor Michele Costola – Ca' Foscari University of Venice – Department of Economics, will presented the TranspArEEns project and its implications for SMEs.
Presentation
Compound risk: climate, disaster, finance, pandemic
Venice, 23-24 September 2021
The Conference, organised under the auspices of the Department of Economics and VERA - Venice centre in Economic and Risk Analytics for public policies (Ca' Foscari University of Venice), ABI - Italian Banking Association, AIAF - Associazione Italiana per l'Analisi Finanziaria and the Joint Research Center, European Commission (Ispra, Italy), brings together academics, practitioners and PhD students working in various areas of financial and credit risk.
The theme of this year's conference is the relation between financial risk on the one hand and pandemic, climate and disaster risk, on the other hand, with particular attention to the possible compounding of different sources of risk.