MAREA
MAtchmaking Restoration Ecology & Aquaculture
Project
The overall objective of this project is to demonstrate how ecosystem restoration theory can be incorporated within current aquaculture, to increase revenues while minimizing impacts. The specific objective is to assess the feasibility of incorporating oyster reefs restoration with mussel aquaculture.
In this way the restored reef under the culture site will be protected from damages, as no trawling or dredging activities are allowed within the farm, and will be acting as a 'mother-reef', providing a source of new seeds, both to replenish natural populations, but also to be collected to start a new chain of oyster farming based on local production, create an economy that promotes local harvests.
This project will investigate the feasibility of restoration of flat oyster, "Ostrea edulis", reefs. The population of this European native species has declined in Europe7 and, in particular, in the Adriatic-Ionian region, due to poorly managed fisheries. The market value of the flat oyster is 3-5 times higher than that of the Pacific oyster9: their reintroduction as a cultivated species in the Adriatic-Ionian region is being successful in Croatia.
This project will be the first step needed to assess the prospect of creating a new oyster market with local seeds, which should not only guarantee a better genetic adaptation to the conditions experienced during culturing (as opposed to importing seeds from different geographical areas as it is currently practiced), but may also carve a new marketing niche.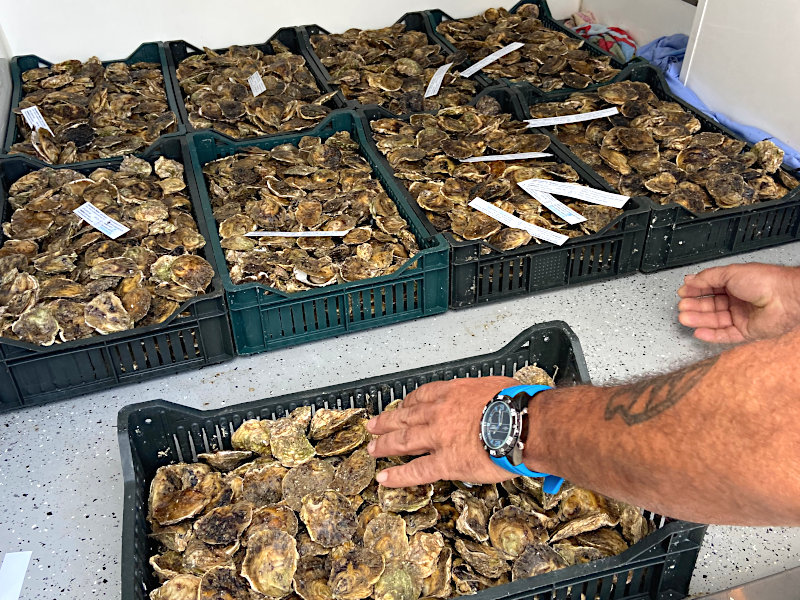 Research
The methodology to address these specific objectives, is based on system thinking and will involve the development on an integrated model of matter and energy flows within the system composed by: suspended mussel, oysters, sediment and water as well as across its boundaries.
The model will be made up of a set of interconnected modules. While most modules were already built by researchers at the host institution (Ca' Foscari) during the project two new modules will be developed and tested: growth and energy balance for individual oysters and larval dispersal models to predict population spread.
Furthermore, a comprehensive set of data will be collected at a field pilot site in the Venice area, in order to validate the integrated model. These will include:
publicly available data sets, collected in routine monitoring activities,
remotely sensed observations downloaded from the Copernicus Marine Environment Monitoring Service,
a set of original site-specific field data collected during the project, related to in loco current speeds, temperature, food quality.
Spat collectors specific for oysters harvest will be placed in multiple location accessible by fisheries (e.g. different heights on the poles, surrounding seabed areas..) to identify the best area for collection and spat quality in terms of size uniformity will also be quantified. Natural spat collectors (e.g. shells) will also be placed underneath farming areas and other areas unlikely to be trawled to understand the potential for natural reef restoration. Shells will be reused if possible from restaurants in order to achieve circularity and maximise resources.
"Ostrea" adults acting as seed source are externally sourced from Croatia (northern Adriatic Sea) in order to maintain the Adriatic genetic pool.
Outcomes
How much do you know the oysters that you eat?
A new project output is available (in Italian), it will be available in print and made available in local fishmongers.
This takes a look at different species of oysters that can be found on the market, highlighting the distinguishing features and provenance.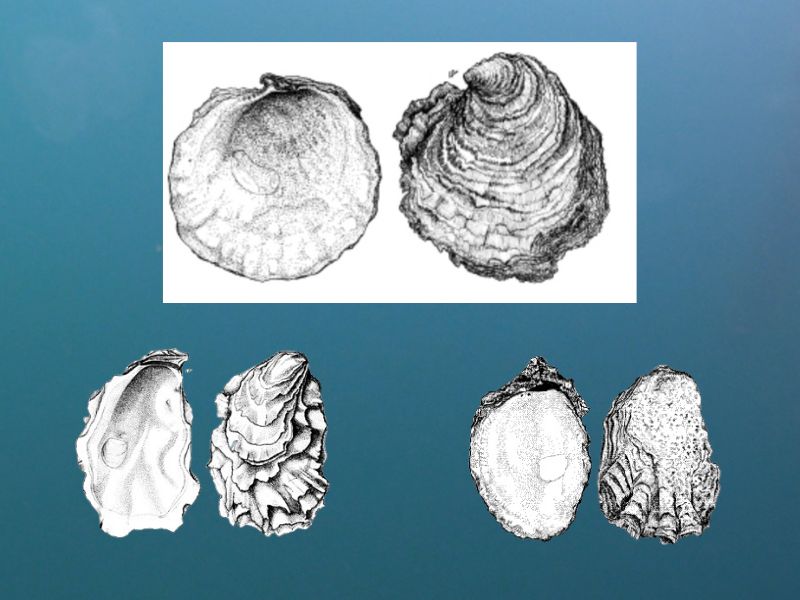 Final workshop
Modelling the carbon associated with the mussel longlines in the Mediterranean Sea
An important aspect of restorative aquaculture is related to the quantification of the benefits. Since the project aims to combine oyster restoration and aquaculture with mussels aquaculture, one of the outputs of the project was a model to relate carbon fluxes associated with mussels aquaculture, estimating the different terms of the budget separately. The model builds up on a scope for growth model and was in this first instance applied at 12 Mediterranean sites of mussel aquaculture , with environmental forcings provided by operational oceanography data spanning over 12 years (to include some interannual variability).
Mussels were found to be slight sinks, with a limited variability across sites, if all components of the budget, i.e. accumulation in soft tissue , emissions associated with calcification and respiration, are included. The differences found among stations concerning the calcification and soft tissue contributions to the budget were found to be related to site-specific productivity and water chemistry parameters. This led to the identification of a set of meta-models, which could be used for relating the budget to local conditions, at a screening level, rendering them useful for optimal site selection. This is now published in AMBIO and can be read here.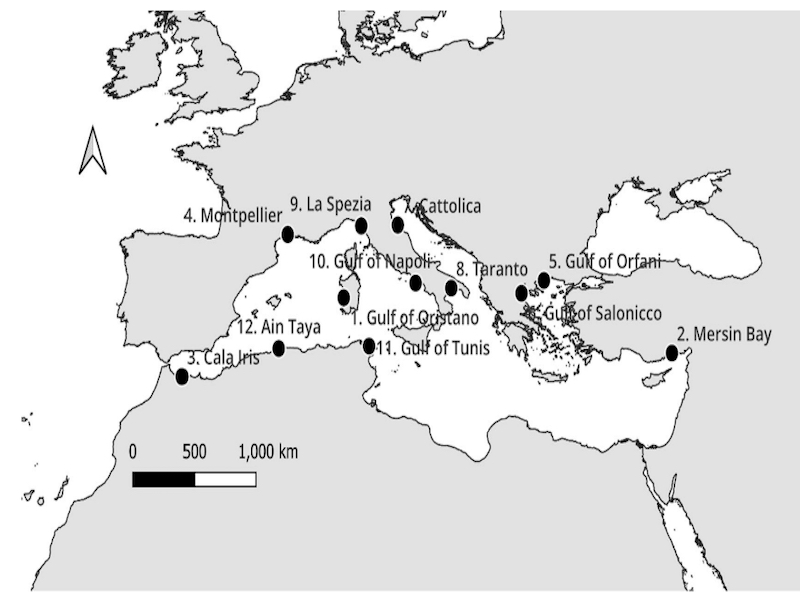 A bioenergetic model
(preprint under peer review)
From the deployment of the adult oysters from Croatia (September 2021) and for a year, we sampled approximately monthly (together with the technical help of Alessandro Buosi) oysters growth, weighing separately shell, somatic tissues and gonads. This was necessary and allowed us to calibrate a Scope For Growth based model, which is based on the available energy utilization (that eaten minus that used in catabolic processes) towards the growth of the different tissues (based on coefficients of allocations), using as inputs the chlorophyll and temperature coming from a continuous monitoring buoy situated at the site. The outputs of the model (weights of somatic tissue, gonads and shell tissue) showed promising results with patterns following growth in situ. The manuscript is currently undergoing peer-review, and is available as a pre-print.
Literature review
Bertolini C and Pastres R., "Identifying knowledge gaps for successful restorative aquaculture of Ostrea edulis: a bibliometric analysis", [version 1; peer review: awaiting peer review], Open Research Europe 2021, 1:103
The first part of the study was a literature review, available from Open Research Europe. The review grouped all research related to Ostrea edulis, both in form of peer reviewed international publication and as local knowledge from library sources. This comprehensive research showed that while restoration studies are recent, evidence for the loss of this species and potential causes (and solutions) have been discussed since the end of the 19th century. While diseases were undoubtedly a leading cause for initial reef loss, coupled with unregulated mass fishery, substratum limitation (given by a loss of seabed complexity, which was also a result of unregulated dredging) appears to be one of the leading limiting factors for both restoration and aquaculture of "O. edulis", and was already mentioned in the early texts that were found in the literature search.
La Fondazione di Ostrea
An aspect of the MAREA project is concerned with recruitment of oyster larvae, essential to obtain seed for aquaculture but also to kickstart the restoration and self-maintenance of reefs. Many benthic organisms have a planktonic larval stage and this means that larvae can travel long distances and then have to find a suitable substrate for attachment. Not many people are aware of this, and as a divulgative aspect I have written a little story which sees as a protagonist "Nassaia" (from the French, Naissain) a little oyster larva that leaves the home reef and gets into many adventures before finding a suitable stone to kick start her own reef. This is primarily targeted at children. I am ever so grateful for the help of the illustrator, Claudia Fratini, who made the drawings to complement the story.